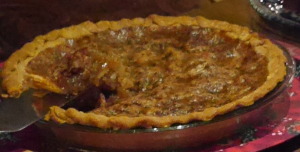 The bourbon adds a nice "kick" to the pie without overwhelming it.
Ingredients:
3 eggs, beaten
1/2 teaspoon salt
1 cup light corn syrup
2 Tablespoons bourbon
1 cup sugar
1/3 cup melted butter
1 cup pecan halves
1 deep dish pie shell
Mix the eggs, sugar, and salt.  Fold warm butter in slowly, a little at a time.  Add syrup and bourbon, mixing until well blended.  Add pecans.  Pour the mixture into a pie shell and bake at 375 degrees for one hour or until a toothpick inserted into the center comes out clean.  If the shell begins to darken, cover with foil.
Recipe prepared by my friend Laura