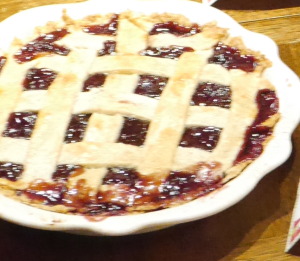 This is a wonderful twist on a holiday favorite and the balsamic vinegar paired with the cherries is a divine combination.
Ingredients:
3 1/2 lbs. cherries, pitted
1 1/4 cups turbinado sugar
2 Tablespoons honey
3 Tablespoons balsamic vinegar
1 teaspoon vanilla extract
1 teaspoon cloves
1/2 cup flour
2 Tablespoons cornstarch
3 Tablespoons butter, melted
4 cups flour
1 Tablespoon sugar
1/4 teaspoon salt
1/2 teaspoon ground black pepper
1 cup plus 1 Tablespoon butter, cut into small cubes and chilled
4-6 Tablespoons water
1 egg, whisked
1 Tablespoon water
To prepare the filling bring the cherries, sugar, honey, vinegar, vanilla, cloves, flour, cornstarch, and butter to a boil in a medium sized saucepan over medium high heat, stirring every few minutes.  Lower the heat and allow the mixture to simmer uncovered for 30 minutes, stirring every 5 minutes.  Take care not to crush the cherries as you stir, you want them to remain whole in the pie.  Once the filling has thickened, remove from heat.  To prepare the crust, mix the flour, sugar, salt, and pepper into a bowl.  Cut in butter cubes with a pastry blender.  Begin adding Tablespoons of ice water and stir gently until dough begins to stick together.  Separate the dough into 2/3 and 1/3 pieces.  Roll the big ball onto a well floured surface and transfer to a deep dish pie plate.  Roll out the smaller ball and cut it into 1″ stripes for the lattice pattern on top of the pie.  Place the pie plate with the crust, covered in plastic wrap in the fridge for 30 minutes.  Pour the filling to not the pie shell and then arrange the lattice pieces on top.  Whisk the egg and water in a small bowl and brush the lattice pieces and edge of the pie crust.  Bake at 375 degrees for 1 hour and 20 minutes on the second lowest oven rack, lightly brushing the surface with more egg mixture at the 45 minute mark.  If you notice the edges of the crust browning too quickly, cover them with foil.  Remove from the oven and allow to cool 1 hour before serving.
Recipe from Adventures in Cooking and prepared by my friend Bobbie