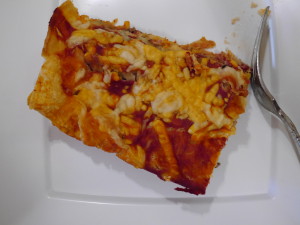 This recipe has been in my family for years and my sister and I fix it every Christmas Eve.  This is a Spanish enchilada.  TIP:  When you are rolling up the enchilada, dip the tortilla in some of the warm sauce to keep it from breaking.  It is also helps if the tortillas are room temperature.  Serve with a salad and french rolls.  This makes two large pans.  If you don't cook both, cover with foil , refrigerate, and cook a night or two later.
Ingredients:
Sauce:
6-16 oz. cans tomato sauce
6 cans water
1 teaspoon garlic salt
4 Tablespoons Louisiana hot sauce (add more if you like your sauce spicy)
Enchiladas:
2 lbs. ground beef
2 onions, finely diced
6 hard boiled eggs, chopped (optional)
2 cups grated cheddar cheese
2 cans chopped black olives
2 dozen corn tortillas
Add tomato sauce, water, and Louisiana hot sauce to a large dutch oven.  Simmer uncovered for 3 hours.  Add more hot sauce if needed.
Brown ground beef and onions.  Remove from heat and add eggs and olives.
Pour a layer of sauce into a pie plate.  Dip tortilla in sauce, spoon meat mixture on tortilla.  Sprinkle some cheese and drizzle hot sauce over meat mixture.  Roll up tortilla and place in a well greased 13″ x 9″ pan.  Sprinkle some of the cheese over enchiladas and spoon some sauce over the rolled enchiladas just before placing in oven.  Bake uncovered at 350 degrees for 20 minutes.
Serves:  8