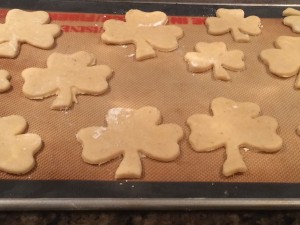 This was our go-to recipe growing up for cut-out cookies.  The dough is so delicious and it just takes a little flour to roll these out and make different shapes.  Decorate with colored sugars.
Ingredients:
3 cups all-purpose flour
2 teaspoons baking powder
3/4 teaspoon baking soda
1/2 teaspoon ground nutmeg
1 cup butter
2 eggs
1 cup sugar
1/4 cup milk
1 teaspoon vanilla extract
Combine flour, baking powder, baking soda, and nutmeg; cut in butter with a pastry blender until mixture resembles coarse crumbs.  Combine eggs, sugar, milk, and vanilla; mix well and pour into crumb mixture.  Stir with a fork until all dry ingredients are moistened.  Shape into a ball and wrap in plastic wrap.  Refrigerate for 1 hour.  Roll the dough out on a floured board and cut into shapes.  Place on a silicone mat on a cookie sheet and bake at 375 degrees for 10 minutes or until edges are golden brown.
Yield: 4 dozen