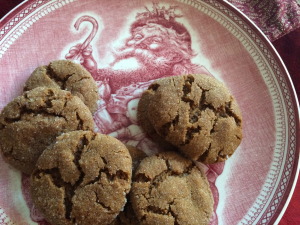 I love these because they are quick and easy to make and they are the perfect combination of soft and chewy.  My family gives these cookies a rating of "scrumptious!"  Santa would definitely enjoy these with a glass of milk!
Ingredients:
3/4 cup unsalted butter, melted
3/4 cup granulated sugar
1/4 cup molasses
1 egg
2 cups all-purpose flour
2 teaspoons baking soda
1/2 teaspoon ground cloves
1/2 teaspoon ground ginger
1 teaspoon ground cinnamon
1/4 teaspoon salt
In a large bowl combine the butter, sugar, molasses, and egg, stirring to combine.  Add flour, baking soda, cloves, ginger, cinnamon, and salt mixing well.  Form dough into balls and roll in granulated sugar.  Bake on a cookie sheet covered with parchment paper at 375 degrees for 10 minutes.  Remove from oven and let sit for 2 minutes before moving cookies to a wire rack to cool completely.
Yield: 3 dozen cookies