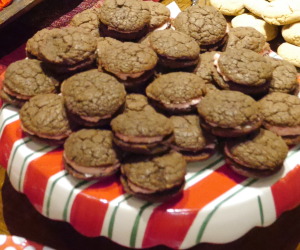 These Christmas cookies are fantastic!!  The crunch of the candy cane with the soft chocolate cookie is a fabulous match!
Ingredients:
1 1/2 cups brown sugar, packed
3/4 cup butter
2 Tablespoons water
2 cups semi-sweet chocolate chips
2 eggs, beaten
3 cups flour
1  1/4 teaspoons baking soda
1 teaspoon salt
5 cups powdered sugar
1/2 cup butter, softened
1/8 teaspoon salt
1/2 teaspoon peppermint extract
1/4 cup milk
4-5 drops red food coloring
3 candy canes, crushed
Sift the flour, baking soda, and salt together in a mixing bowl.  In a medium saucepan over medium-low heat, stir buyer and sugar together until melted and thick.  Stir in water and then chocolate chips.  Stir until chocolate is completely melted.  Remove from heat and stir in beaten eggs until well combined.  Slowly add chocolate mixture into flour mixture and stir until a stiff dough forms.  Spoon level Tablespoons onto a prepared cookie sheet and bake for 8-10 minutes.  Cool and sandwich two cookies together with the Candy Cane Filling.  To make filling, whip butter, salt, peppermint extract, and food coloring until light and fluffy.  Alternate adding sugar and milk until you reach your desired consistency, which should be a stiff frosting.  Stir in crushed candy canes.
Recipe from Mrs.Fields and prepared by my friend Christy