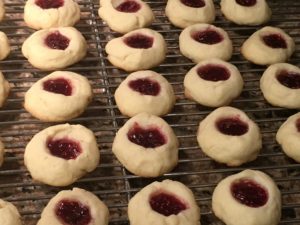 This was my grandmother's recipe and I would get so excited around the holidays to make these cookies that are oh, so easy to pop in your mouth!  I use raspberry jam to fill the center.
Ingredients:
3/4 cup confectioner's sugar
1 cup butter, softened
2 cups all-purpose flour
1 teaspoon vanilla
Jam
Cream sugar and butter in an electric mixer until light and fluffy.  Blend in flour and vanilla just until combined.  Cover and chill for 1 hour.  Roll chilled dough into balls the size of a walnut and place on an ungreased cookie sheet.  Use the back of a 1/4 teaspoon and make a dent in the center of each ball.  Fill with 1/4 teaspoon of jam.  Bake at 350 degrees for 12 minutes.  Let cool on cookie sheet for 5 minutes then move to a wire rack to cool completely.
Yield:  4 dozen cookies