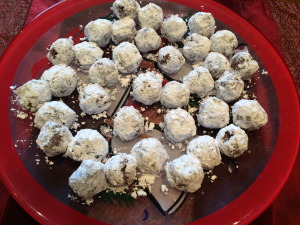 My mom made these every year for our Christmas cookie jar and I would also sneak a couple.  Don't worry, they alcohol just adds great flavor, it is not enough to get anyone tipsy!
Ingredients:
1 box of Nilla Wafers, ground fine in a food processor
1 cup confectioners sugar
3 Tablespoons light corn syrup
1 1/2 Tablespoons cocoa
1/2 cup bourbon or rum
Mix dry ingredients together in a bowl.  Add corn syrup and bourbon.  Form the balls into the size of walnuts and roll in powdered sugar.
Yield: 2 dozen cookies