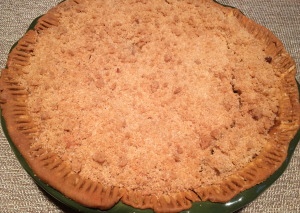 This is a great recipe if you are in a hurry and need dessert.  It uses store bought crust, which is not my favorite, but the flavors in the this make up for a homemade crust.  Just be sure you read the directions carefully on the crust regarding letting it come to room temperature before rolling into the pie plate.
Ingredients:
1 refrigerated piecrust
1/2 cup butter, divided (1/4 cup needs to be softened)
2 large or 3 small Granny Smith apples, peeled and sliced
3/4 cup sugar, divided
3/4 teaspoon cinnamon, divided
1 1/3 cups sugar
4 eggs
2 Tablespoons all-purpose flour
1 teaspoon vanilla extract
3/4 cup buttermilk
3 Tablespoons butter, softened
1/4 cup firmly packed light brown sugar
1/2 cup all-purpose flour
Fit piecrust into a 9″ pie plate according to package directions; fold edges under, and crimp.  Prick bottom and sides of piecrust with a fork.  Melt 1/4 cup butter in a large skillet over medium heat; add apple, 1/2 cup granulated sugar, and 1/2 teaspoon cinnamon.  Cook, stirring occasionally, 3-5 minutes or until apple is tender, set aside.  Beat 1/4 cup butter and 1 1/3 cups granulated sugar at medium speed with an electric mixer until creamy.  Add eggs, 1 at a time, beating just until yellow disappears.  Add 2 Tablespoons flour and vanilla, beating until blended.  Add buttermilk, beating until smooth.  Spoon apple mixture into pie crust; pour buttermilk mixture over apple mixture.  Bake at 300 degrees for 30 minutes.  Stir together 3 Tablespoons butter, remaining 1/4 cup granulated sugar, brown sugar, 1/2 cup flour, and remaining 1/4 teaspoon cinnamon until crumbly.  Sprinkle over pie.  Bake 40 more minutes or until a knife inserted into the center comes out clean.  Let stand 1 hour before serving.
Serves:  12
Recipe from Southern Living Magazine.