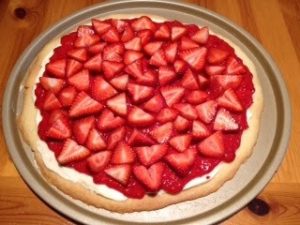 Think of a giant sugar cookie with frosting and strawberries, and you have Strawberry Pizza.  If you are in a hurry, you can buy sugar cookie dough from your grocery store to use instead of making the crust.
Ingredients:
1 1/2 cups flour
1 cup cold unsalted butter, cubed
1/2 cup powdered sugar
1-8oz. package cream cheese, softened
1/2 cup sugar
1 teaspoon vanilla
2 cups mashed strawberries
2 Tablespoons sugar
2 Tablespoons cornstarch
1 pint strawberries sliced, for the very top
Mix flour, butter, and powdered sugar  together in a food processor until a dough ball forms.  Press into a 14″ pizza pan.  Bake at 325 degrees for 15 minutes or until lightly browned.  Let cool completely.  Combine cream cheese, sugar, and vanilla and blend with an electric mixer until light and fluffy.  Spread on cooled crust.  Mix mashed strawberries, sugar, and cornstarch in a saucepan over medium low heat.  Cook until lightly thickened.  Cool completely and spread on top of frosting.  Top with sliced strawberries.
Yield:  12 slices