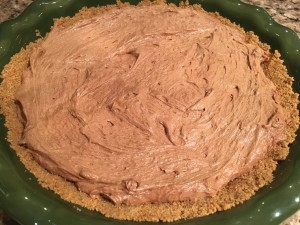 Think chocolate mousse on a graham cracker pie crust.  Really.  It's that good!
Ingredients:
1 3/4 cups graham cracker crumbs
2 Tablespoons firmly packed light brown sugar
1/2 teaspoon ground cinnamon
Big pinch of salt
6 Tablespoons unsalted butter, melted
3 ounces unsweetened chocolate, coarsely chopped
3/4 cup unsalted butter, softened
1 1/4 cups sugar
3 eggs
2 teaspoons vanilla extract
Lightly butter your choice of pie pan and set aside.  Combine the graham cracker crumbs, brown sugar, cinnamon, and salt in a large bowl.  Mix briefly with your fingers.  Add the butter and incorporate well, mixing first with a fork, then with your hands, rubbing thoroughly to form evenly dampened crumbs.  Spread the crumbs even and loosely in the pan, pressing them into the bottom and up the side.  Refrigerate for 5 minutes.  Place on the center oven rack and bake for 7 minutes at 350 degrees.  Let cool on a wire rack completely, then refrigerate for 10 minutes.  To make the filling, put the chocolate in the top of a double boiler and set over, not in, barely simmering water.  Melt the chocolate, smoothing it with a whisk.  Remove the insert and let the chocolate cool, stirring occasionally.  Set aside.  Using an electric mixer, beat the butter in a large bowl until creamy.  Gradually add the sugar and continue to beat, scraping down the bowl as needed, until the mixture is light-textured, about 5 minutes.  Scrape the melted chocolate into the butter mixture.  Beat for 30 seconds.  Add the eggs, one at a time, beating on medium-high speed for 4 minutes after each addition.  The filling should be very light and creamy.  Add the vanilla and blend for 10 seconds to incorporate.  Scrape the filling into the chilled pie shell and smooth the top with a spoon.  Cover with loosely tented aluminum foil and refrigerate for at least 3 hours or overnight.
Recipe from PIE Cookbook