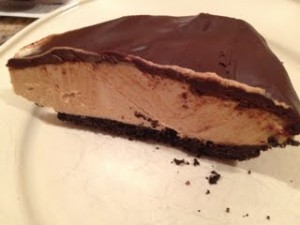 This pie is from PIE cookbook by Ken Haedrick.  It is so light and fluffy, the pie will only last one day in your fridge!
Ingredients:
Crust:
30 chocolate wafers
2 Tablespoons brown sugar
1 Tablespoon all-purpose flour
Pinch of salt
1/4 cup unsalted, sweet cream butter, melted
Lightly butter a pie pan.  Combine wafers, brown sugar, flour, and salt in a food processor.  Using long pulses, grind the wafers to a very fine texture.  Dump the crumbs into a large bowl and add the butter.  Mix throughly to blend.  Spread the crumbs evenly into a pie pan, pressing them into the bottom and up the side.  Refrigerate for 5 to 10 minutes.  Place in the center rack of the oven and bake for 6 minutes at 350 degrees.  Let cool on a wire rack and then refrigerate the cooked pie shell 10 minutes before filling.
Pie
1 1/4 cup smooth peanut butter
1-8oz. package cream cheese, softened
1 cup confectioners sugar, sifted
1 Tablespoon vanilla extract
1 1/4 cups cold whipping cream
Cream the peanut butter, cream cheese, and 1/2 cup of the confectioners sugar together in a large bowl with an electric mixer.  Blend in vanilla.  Wash and dry the beaters.  Using a chilled medium sized bowl and chilled beaters beat the heavy cream with the mixer until it holds soft peaks.  Add the remaining 1/2 cup confectioners sugar and continue to beat until stiff but not grainy.  Add about one-third of the whipped cream to the peanut butter mixture.  Blend with a mixer until smooth and creamy.  Fold in the remaining whipped cream until the filling is smooth and evenly mixed.  Spoon the filling into the chilled pie shell and smooth the top with a spoon.  Cover with loosely tented aluminum foil and refrigerate for at least 3 hours or overnight.
Glaze
1/2 cup whipping cream
1 Tablespoon instant espresso granules
2 Tablespoons unsalted, sweet cream butter
1 cup semi-sweet chocolate chips
1 Tablespoon light corn syrup
1/2 teaspoon vanilla extract
Bring the coffee, cream, and butter to a simmer, in a small heavy saucepan over medium heat, whisking to dissolve the coffee.  Remove from heat and add the chocolate chips.  Let the mixture stand for 2 minutes, then whisk until smooth.  Whisk in the corn syrup and vanilla.  Let glaze cool slightly and pour it evenly over the pie, tilting the pie to spread sauce up to the edge.  Set aside to cool.  Re-cover with loosely tinted aluminum foil and refrigerate until ready to eat.
Yield:  10 slices