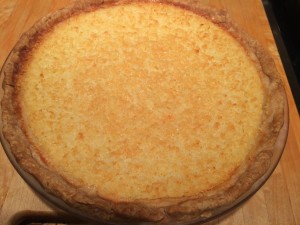 This pie is super easy to make and has a wonderful creamy texture.
Ingredients:
1 1/2 cups all-purpose flour
1 Tablespoon sugar
1/2 teaspoon salt
6 Tablespoons cold butter, cubed
3 Tablespoons cold shortening, cubed
4-5 Tablespoons ice water
1 1/2 cups sugar
3 Tablespoons all-purpose flour
3 eggs
1 cup buttermilk
1/2 cup butter, melted
1 Tablespoon lemon zest
3 Tablespoons fresh lemon juice
1 teaspoon vanilla extract
In a food processor combine flour, sugar, and salt.  Pulse 3-4 times.  Add butter and shortening and pulse 8-10 times until mixture resembles coarse meal.  Drizzle 4 Tablespoons of water over mixture and pulse 4 to 5 times until dough clumps together, adding a teaspoon of water at a time if needed.  Gently shape the dough into a flat disk.  Wrap in plastic wrap and chill 30 minutes.  Preheat oven to 400 degrees.  Roll dough into a 12″ circle on a floured board.  Fit into a 9″ pie pan and crimp the edges.  Prick the bottom and sides with a fork.  Line pastry with parchment paper and fill with pie weights or beans.  Bake at 400 degrees for 10 minutes.  Remove weights and parchment paper and bake 8-10 minutes or until lightly browned.  Transfer to wire rack and cool completely (about 30 minutes).  To make the pie, whisk the remaining sugar and flour together.  Add eggs, buttermilk, butter, lemon zest, lemon juice, and vanilla.  Pour into the crust and bake at 350 degrees for 35-45 minutes or until almost set.  Transfer to a wire rack and cool for one hour.
Recipe from Southern Living Magazine