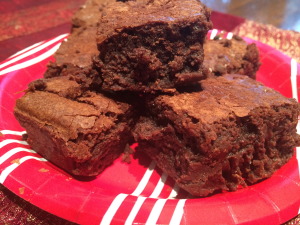 These are wonderfully fudgy and spicy.  Serve with a warm mug of coffee or tea.
Ingredients:
1/2 cup unsalted butter
2/3 cup all-purpose flour, sifted
3 ounces bittersweet chocolate
3 eggs
3/4 cup sugar
1 1/4 teaspoons instant espresso powder
1 teaspoon ground cardamom
1 teaspoon vanilla
1/2 teaspoon kosher salt
Grease the sides and bottom of an 8″ square baking pan with butter and lightly coat with flour.  Melt the chocolate and butter in a double boiler over low heat.  Remove from heat.  Whisk the eggs and sugar together in a large bowl until light and fluffy.  Whisk in express, cardamom, vanilla, and salt until well combined.  Add the chocolate mixture to the eggs and mix throughly.  Add the flour and mix well.  Pour the batter into the pan and bake at 325 degrees for 25-30 minutes or until toothpick inserted into the center comes out clean.  Cool.
Yield: 16
Recipe from Epicurious and prepared by my friend Susan