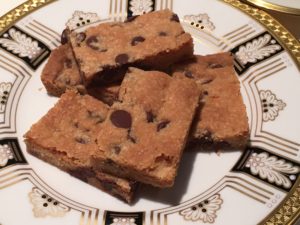 An oldie but goodie…enough said!
Ingredients:
1 cup butter, softened
1 cup light brown sugar
1 teaspoon vanilla
2 cups all-purpose flour
1 cup semi-sweet chocolate chips
In the bowl of an electric mixer, cream the butter, brown sugar, and vanilla until well blended.  Add the flour and mix well.  Stir in the chocolate chips.  Press the mixture in an ungreased 15″ x 10″ x 1″ jellyroll pan.  Bake at 350 degrees for 25 minutes or until browned.  Let cool for 5 minutes and then cut into bars.  Cool completely before removing from pan.
Yield:  40 bars
Recipe from Better Homes and Gardens Cookbook