These cookies remind me of Thanksgiving with the wonderful warm spices simmering on the stove.  This is a quick cookie that achieves that great holiday aroma.
Ingredients: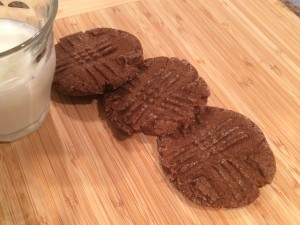 1/2 cup vegetable oil
1/2 cup light brown sugar
1/2 cup molasses
1 teaspoon baking powder
1 teaspoon baking soda
1/2 teaspoon salt
1 teaspoon cinnamon
1 teaspoon ground ginger
1/2 teaspoon nutmeg
1/4 teaspoon ground cloves
1 2/3 cup all-purpose flour
Granulated sugar for coating the cookies
In a medium sized bowl, beat together the oil, brown sugar, molasses, baking powder, baking soda, salt, and spices.  Mix in the flour.  Using a cookie scoop, form dough into balls and roll them in granulated sugar and place on a baking sheet covered lined with parchment paper.  Use a fork to press a crisscross into the top of each cookie.  Bake the cookies at 350 degrees for 10-12 minutes or until set.  Remove from oven and transfer to a wire rack to cool.
Yield:  2 dozen cookies
Recipe from The King Arthur Flour Cookie Companion