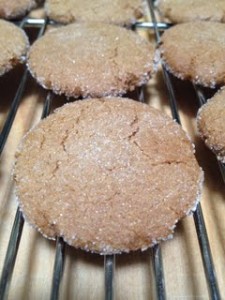 Slightly chewy, slightly crisp, with crystalized sugar on the outside.  Grab two with a glass of milk or tea.  Hint:  to get the molasses out of the measuring cup, spray the cup with a little cooking spray first.
Ingredients:
6 Tablespoons butter, softened
2/3 cup granulated sugar
1/4 cup molasses
1 egg
2 cups all-purpose flour
2 teaspoons baking soda
1 teaspoon ground ginger
1 teaspoon ground cinnamon
1/2 teaspoon ground nutmeg
Cream butter at medium speed of an electric mixer until creamy.  Slowly add the sugar, mixing until light and fluffy.  Blend in the molasses and the egg.  In a small bowl, combine flour, baking soda, ginger, cinnamon, and nutmeg.  Gradually add the flour mixture to the butter mixture until well blended.  Shape dough into balls and roll in granulated sugar and place on a cookie sheet lined with a silicone mat or parchment paper.  Using the bottom of a small jar dipped in granulated sugar, slightly flatten each cookie.  Bake at 350 degrees for 10-12 minutes.  Move to wire rack and cool completely.
Yield:  3 dozen cookies