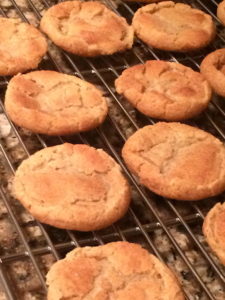 This recipe makes a wonderfully chewy, soft snickerdoodles that will be gone within a day or two!
Ingredients:
3/4 cup granulated sugar
2/3 cup light brown sugar
1/2 cup butter, softened
1 teaspoon vanilla extract
1 large egg
1 1/2 cups all-purpose flour
1 teaspoon baking soda
1/2 teaspoon ground cinnamon
1/4 teaspoon salt
1/3 cup granulated sugar
1 1/2 teaspoons cinnamon
Combine 3/4 cup granulated sugar, brown sugar, and butter in a medium bowl; beat with a mixer at medium speed until light and fluffy  Beat in vanilla and egg.  Combine flour, baking powder, 1/2 teaspoon cinnamon, and salt, stirring well with a whisk.  Add flour mixture to butter mixture; beat just until combined.  Shape dough into 30 balls.  Combine 1/3 cup granulated sugar and 1 1/2 teaspoons cinnamon in a small shallow dish.  Roll balls in sugar mixture, and place 2″ apart on a silicone baking sheet placed on top of a cookie sheet.  Bake at 400 degrees for 8 minutes or until tops crack.  Cool on pans 1 minute.  Remove from pans; cool on wire rack.
Yield:  30 cookies
Recipe from Cooking Light Magazine