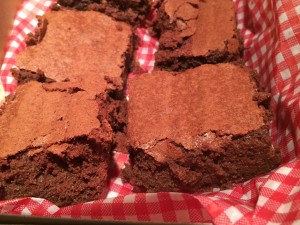 This title certainly lives up to it's name!  I think it's the addition of sour cream that send this recipe over the top.
Ingredients:
4 Tablespoons plus 1 teaspoon unsalted butter
1/4 cup plus 1 teaspoon all-purpose flour
2 Tablespoons unsweetened cocoa
1 teaspoon baking powder
1/2 teaspoon salt
3 ounces unsweetened chocolate, broken into pieces
2 ounces semisweet chocolate, broken into pieces
3 eggs
1 cup granulated sugar
1 teaspoon vanilla extract
1/4 cup sour cream
Lightly coat an 8″ square baking pan with  1 teaspoon of butter, then flour the pan with 1 teaspoon of flour, shaking out the excess.  Sift together the flour, cocoa, baking powder, and salt over a sheet of waxed paper.  Set aside.  Heat 1″ of water in the bottom of a double boiler until just boiling.  Reduce the heat to medium and in the top pan add the chocolates and 4 Tablespoons butter.  Stir until just melted, then remove from heat.  Continue stirring until completely melted and let cool for 5 minutes, stirring occasionally.  Place eggs, sugar, and vanilla in the bowl of an electric mixer fitted with a  balloon whip.  Mix on high until slightly thickened for 1 1/2 minutes.  Add melted chocolate mixture and mix on medium for 30 seconds.  Add sifted ingredients and mix on low for 10 seconds then on medium for 10 seconds.  Add sour cream and mix on medium for 5 seconds.  Remove bowl from mixer and using a rubber spatula combine the mixture throughly.  Pour into prepared pan and bake at 325 degrees for 40 minutes or until pick inserted into center comes out clean.  Cool before cutting.
Yield: 12-16 brownies
Recipe from: Death by Chocolate Cookbook