I have been making these bars for a few months, trying to get just the perfect recipe.  These are the right amount of shortbread and caramel for a delicious dessert.
Ingredients: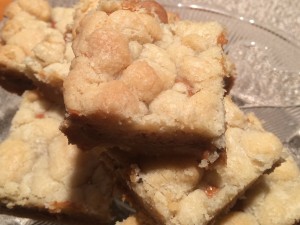 2 cups unsalted butter, softened
1 cup granulated sugar
1 1/2 cups powdered sugar
2 Tablespoons vanilla
4 cups all-purpose flour
1-14 oz. bag individual caramels
1/3 cup heavy whipping cream
1/2 teaspoon vanilla
1 Tablespoon coarse sea salt
In a large mixing bowl combine the butter, granulated sugar, and powdered sugar.  Mix until combined.  Add the vanilla and mix until well blended.  Slowly add the flour until a soft dough forms.  Divide the dough in half.  Wrap one half in plastic and place in the refrigerator.  Butter a 13″ x 9″ pan.  Spread the other half of the dough evenly over the bottom of the pan.  Bake at 325 degrees for 25-30 minutes or until dough is light golden brown.  Remove from oven.  Melt caramels and whipping cream over medium low heat in a pan on the stove until caramels are completely melted.  Remove from heat and stir in the vanilla.  Slowly and evenly pour the caramel over the warm shortbread.  Sprinkle the sea salt evenly over the caramel.  On a cutting board, take the remaining dough and roughly chop it with a knife.  Sprinkle the chunks of dough over the top of the caramel.  Bake at 325 degrees for 30 minutes or until golden brown.  Let cool completely and then cut into bars.