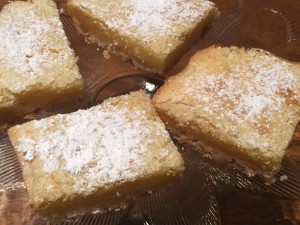 These bars are so flavorful with the lemon zest and shortbread crust.  Make sure they are cooled completely before you cut them into squares.
Ingredients:
2 cups all-purpose flour
1/2 cup powdered sugar
2 sticks butter, cubed and chilled
4 eggs
2 cups granulated sugar
1 teaspoon lemon zest
1/3 cup lemon juice freshly squeezed and strained
1/2 teaspoon baking powder
1/4 cup all-purpose flour
Line the bottom and sides of a 13″ x 9″ pan with parchment paper and lightly grease with shortening.  Stir together flour and powdered sugar.  Cut in cubed butter with a pastry blender until crumbs are the size of peas.  Press into the prepared pan and back at 350 degrees for 20 minutes or until light brown.  Whisk the eggs in a large bowl until smooth, then whisk in the sugar, lemon zest, and lemon juice.  Sift the baking powder and flour and add to the egg mixture, whisking until well blended.  Pour the mixture over the warm crust and bake at 350 degrees for 25 minutes or until the filling is set.  Let cool in pan for 30 minutes then lift out the parchment paper and move the bars to a wire rack and cool completely.  Cut into bars and sprinkle with powdered sugar.
Yield 2 dozen bars