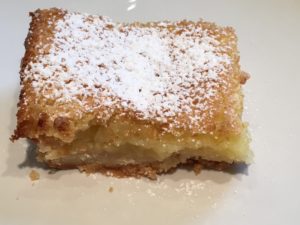 These are the best Lemon Bars.
Ingredients:
2 1/2 cups all-purpose flour
1 cup unsalted butter, at room temperature
1/2 cup powdered sugar
6 eggs
3 cups granulated sugar
1 cup fresh lemon juice
1/2 cup freshly grated lemon zest
1 teaspoon baking powder
Coat a 9″ x 13″ baking pan with cooking spray.  In a large bowl, stir 2 cups flour together with the butter and powdered sugar to make a dough.  Spread the mixture into the prepared pan, building up a 1″ edge on all sides.  Bake for 15 minutes or until lightly browned; remove from the one and place the pan on a wire rack.  (Leave the oven on.)  In a large bowl, use an electric mixer to mix the eggs with the granulated sugar, lemon juice, and lemon zest; set aside.  In a small bowl, mix the remaining 1/2 cup flour with the baking powder.  Add the flour mixture to the egg mixture and mix well.  Pour the mixture over the prebaked crust.  Bake for 25-30 minutes or until golden around the edges and set in the middle.  Let the bars cool on a wire rack for 10 minutes before refrigerating.  Cut into squares and sprinkle with powdered sugar.
Recipe from Sweet on Texas Cookbook