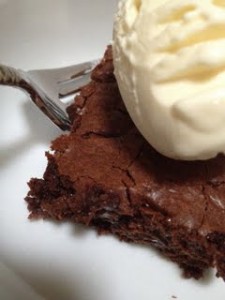 If you like super fudgy, chocolately brownies, this recipe is for you.  It is another great recipe from one of my favorite cookbooks, The King Arthur Cookie Companion.  Cook them for 29 minutes as the recipe says, not a minute more.  Once cooled, serve with a slab of ice cream on top.  Be sure to use the dutch process cocoa, it has a richer, chocolate flavor!
Ingredients:
3/4 cup unsalted, sweet cream butter
2 cups sugar
1 cup dutch process cocoa powder, sifted
1 teaspoon salt
1/2 teaspoon baking powder
1 Tablespoon vanilla extract
3 eggs
1 cup all-purpose flour
1 cup chocolate chips
Lightly grease a 9″ x 13″ pan.  In a medium size saucepan set over low heat, melt the butter, then add the sugar.  Remove from heat.  Stir to combine.  Return the mixture to the stove to heat briefly, just until it is hot, not bubbling; it will look shiny as you stir it.  Heating the mixture a second time will dissolve more of the sugar, which will yield a shiny crust on top of the brownies.  Stir in the cocoa powder, salt, baking powder, and vanilla.  Whisk in the eggs, stirring until smooth, then add the flour and chocolate chips, stirring until smooth.  Spoon the batter into a prepared pan.  Bake the brownies for 29 minutes at 325 degrees, until a cake tester inserted into the center comes out clean.  The edges will be set but the center will be soft.  Remove the brownies from the oven and cool on a wire rack before cutting.
Yield: 24 brownies