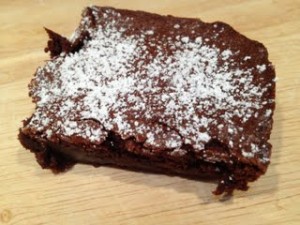 If you like a super "fudgey" brownie, then these are for you.  Top with powdered sugar or vanilla ice cream.
Ingredients:
6 Tablespoons unsweetened cocoa, sifted
1 cup sugar
1/2 cup unsalted butter, melted
2 eggs
1/2 cup all-purpose flour
1 Tablespoon vanilla extract
In a large mixing bowl add cocoa and sugar.  Then add remaining ingredients mixing just until blended.  Put brownie mix in an 8″ square glass baking dish that has been lightly greased.  Bake at 350 degrees for 25 minutes or until toothpick inserted into the center comes out clean.  Cool completely before dusting with powdered sugar.
Yield:  16 brownies