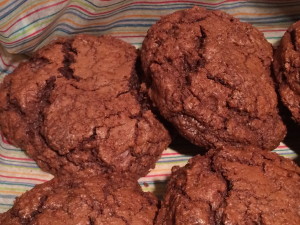 These are my favorite chocolate cookies.  So rich and fudgey, if you are a chocoholic, this is your new cookie recipe.
Ingredients:
1 1/2 cups flour
1/2 cup unsweetened cocoa
1 teaspoon baking soda
1 teaspoon salt
8 ounces semisweet chocolate, broken into small pieces
4 ounces unsweetened chocolate, broken into small pieces
1 1/2 cups tightly packed light brown sugar
3/4 cup unsalted butter, softened
3 eggs
1 teaspoon vanilla extract
3 cups semisweet chocolate chips
Sift together flour,cocoa, baking soda, and salt into a bowl.  Set aside.  Heat 1″ water in the bottom half of a double boiler and heat over medium heat.  Add semisweet and unsweetened chocolate pieces to top half of double boiler, stirring over low heat until just melted.  Cool to room temperature.  In an electric mixer at medium speed, blend brown sugar and butter for 1 minute.  Scrape down sides of bowl, and beat on high for 30 seconds.  Scrape down the bowl.  Add eggs one at a time, beating until blended and then scrape down the bowl after each egg.  Add the vanilla extract and beat for 30 seconds.  Add the melted chocolate and beat for 10 seconds.  Scrape down bowl and add sifted flour mixture, beating just until blended.  Stir in chocolate chips.  Drop cookies by rounded spoonfuls on an ungreased cookie sheet.  Bake at 325 degrees for 18 minutes.  Let cool on cookie sheet for 5 minutes and then move to wire rack to cool completely.
Yield:  3 dozen cookies
Recipe from Death By Chocolate Cookbook