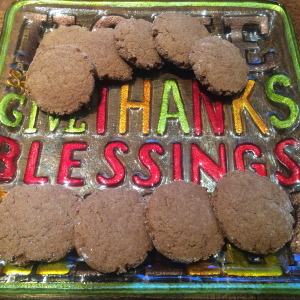 These are great spice cookies!
Ingredients:
1 1/2 cups flour
1 1/2 teaspoons cinnamon
3/4 teaspoon baking soda
1/4 teaspoon ground ginger
1/8 teaspoon ground cloves
1/8 teaspoon ground nutmeg
6 Tablespoons butter, softened
3/4 cup sugar
3 Tablespoons milk
3 Tablespoons molasses
1 teaspoon vanilla extract
Combine flour and spices, set aside.  In a separate bowl combine butter and 1/4 cup of the sugar and mix with an electric mixer for 3 minutes.  Add milk, molasses, and vanilla.  Continue mixing until well blended.  Add flour and spice mixture.  Shape dough into a ball, cover, and refrigerate for 30 minutes.  Shape dough into teaspoon size balls.  Place remaining 1/2 cup sugar in a bowl and roll the balls into the sugar.  Place balls on a silicone mat or parchment paper on a cookie sheet and flatten each ball with the bottom of a glass dipped in sugar.  Bake at 350 degrees for 12 minutes.  Cool on pan for 5 minutes and then remove to a wire rack.
Yield:  30 cookies