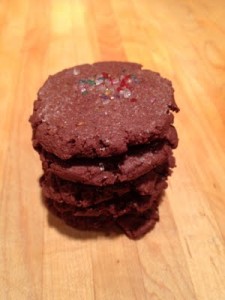 My son said these taste like a cross between a brownie and an gingersnap (minus the ginger).  This recipe is from one of my favorite cookbooks, The King Arthur Flour Cookie Companion.  I highly recommend adding this cookbook to your cookbook shelf as every recipe I make out of it, turns out perfectly!  The secret ingredient in these cookies is the cayenne pepper.  I used a pretty healthy pinch and it mixes so well with the cocoa for a fantastically flavored cookie.
Ingredients:
1/2 cup unsalted butter, softened
1 cup granulated sugar
1/2 teaspoon vanilla extract
Pinch of black pepper
Pinch of cayenne pepper
3/4 teaspoon cinnamon
1/2 teaspoon salt
1 egg
3/4 cup cocoa powder, sifted
1 1/2 cups all-purpose flour
Crystal sugar
In a large bowl, cream together the butter, sugar, vanilla, peppers, cinnamon, and salt.  Beat in the egg.  Add the cocoa, then the flour.  Stir to combine well, the dough will be very stiff.  Drop the dough by teaspoons full onto baking sheets lined with silicone mats or parchment paper.  Lightly flatten the cookies to 1/4″ thick with the bottom of a drinking glass dipped in sugar.  If desired, lightly press crystal sugar into the top of the cookies.  Bake at 350 degrees for 10-11 minutes, but no longer.  Remove from the oven and transfer to a wire rack.
Yield: