I found this recipe in the King Arthur Flour Cookie Companion cookbook.  Another one of my, "you must have this book in your kitchen" cookbooks!  King Arthur calls this recipe Magic in the Middle, but truly it tastes just like a candy peanut butter cup.  This recipe is quite hands on, so don't do it when you are short on time.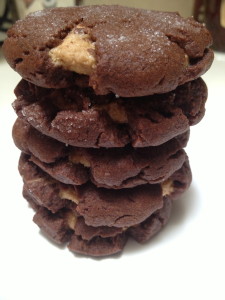 Ingredients:
Dough
1 ½ cups unbleached all-purpose flour
½ cup unsweetened natural cocoa powder
½ teaspoon baking soda
¼ teaspoon salt
½ cup brown sugar
1/2 cup granulated sugar (plus more for dipping)
½ cup unsalted butter
¼ cup smooth peanut butter
1 teaspoon vanilla extract
1 egg
Filling
¾ cup smooth peanut butter
¾ cup confectioners' sugar
Line two cookie sheets with parchment paper.  To make the dough:  In a medium sized mixing bowl, whisk together flour, cocoa, baking soda, and salt.  In another medium mixing bowl, beat together the sugars, butter, and peanut butter until light and fluffy.  Add the vanilla and the egg, beating to combine, then stir in the dry ingredients, blending well.  To make the filling:  In a small bowl, stir together the peanut butter and confectioners' sugar until smooth.  With floured hands, roll the filling into 26 one-inch balls.
To shape the cookies:  Break off about 1 Tablespoon of the dough, make an indentation in the center with your fingers, press one of the peanut butter balls into the indentation.  Bring the dough up and over the filling, pressing it closed; roll the cookie in the palms of your hand to smooth it out.
Dip the top of each cookie in granulated sugar and place on the prepared baking sheets 2 inches apart.  Dip the bottom of a small drinking in the granulated sugar and gently press a cookie down to flatten, about a half inch thick.  Repeat with the other cookies.
Bake at 375 degrees for 7-9 minutes.  Remove from oven and cool on a wire rack.