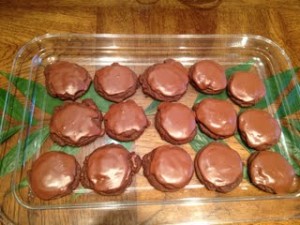 The most amazing cookie you will ever put in your mouth!
Ingredients:
2 1/4 cups all-purpose flour
2/3 cup unsweetened cocoa
1 teaspoon baking soda
1/4 teaspoon salt
1 cup butter, softened
3/4 cup granulated sugar
1 teaspoon vanilla
2 eggs
1-11.5 oz. package semi-sweet chocolate chips
1/4 cup unsweetened cocoa
1/4 cup hot, strong brewed coffee
1/4 cup butter, melted
1 teaspoon vanilla
3 1/2 cups powdered sugar, sifted
Combine flour and next 3 ingredients in a bowl.  Beat butter and next 3 ingredients at medium speed of an electric mixer until creamy.  Add eggs one at a time, beating just until blended after each addition.  Gradually add flour mixture, beating at low speed until blended.  Stir in chocolate chips.  Drop dough by teaspoons full onto a cookie sheet lined with a silicone mat.  Bake at 350 degrees for 11 minutes or until puffy.  Cool on baking sheet for 2 minutes.  Remove to wire rack and cool completely.
To make the frosting, stir cocoa through powdered sugar together until creamy and slightly stiff.  Frost cookies.
Yield:  2 1/2 dozen cookies