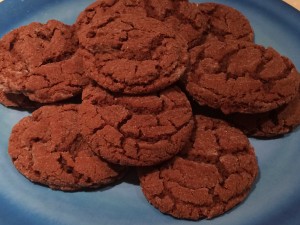 When I was in high school I used to make these with a girlfriend of mine.  It is a wonderfully minty cookie and the recipe makes enough for the whole team!
Ingredients:
4 squares unsweetened chocolate
1 1/4 cups shortening
2 cups granulated sugar
2 eggs at room temperature
1/3 cup light corn syrup
2 1/2 Tablespoons water
2 teaspoons peppermint extract
1 teaspoon vanilla extract
4 cups all-purpose flour
2 teaspoons baking soda
1/2 teaspoon salt
1/2 cup granulated sugar
In the top of a double boiler, melt the chocolate squares over medium heat.  Remove from the stove and let cool.  Cream shortening in a large mixing bowl and gradually add the sugar, beating until light and fluffy.  Add the melted chocolate, eggs, corn syrup, water, peppermint, and vanilla, beating until well blended.  Combine the flour, baking soda, and salt in a bowl.  Gradually add to the chocolate mixture, beating until blended.  Place 1/2 cup sugar in a bowl.   Roll dough into 1″ balls and roll in sugar.  Place on an ungreased cookie sheet and bake at 350 degrees for 10 minutes or until cookies begin to crack.  Remove from oven and let cool on pan 5 minutes.  Move cookies to wire rack and let cool completely.
Yield: 4 dozen