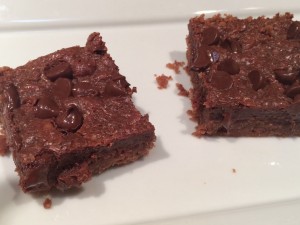 This is a fun twist on shortbread, with cocoa added to the mix and a wonderfully fudgey layer on top.
Ingredients:
1 3/4 cup flour
3/4 cup powdered sugar
1/4 cup unsweetened cocoa, sifted
1 cup cold butter cut into pieces
1-14 oz. can sweetened condensed milk
1 teaspoon vanilla extract
1 1/2 cups semi-sweet chocolate chips
Mix flour, powdered sugar, and cocoa in a large bowl.  Cut in cold butter pieces with a pastry cutter into flour mixture until crumbly.  Press into a 13″ x 9″ pan and bake at 350 degrees for 15 minutes.  Place pan on a wire rack to cool slightly.  In a medium saucepan, add sweetened condensed milk, vanilla, and 1 cup of chocolate chips.  Heat over low heat until melted and smooth.  Spread evenly over the shortbread crust and then sprinkle the remaining 1/2 cup chocolate chips over the top and bake at 350 degrees for 20 minutes.  Let cool on a wire rack.