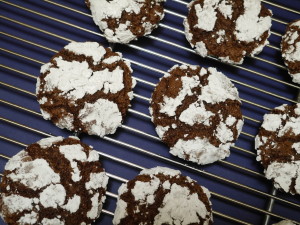 This is a recipe my son enjoys making with me, especially tasting from the mixing bowl!  Mixing and rolling the dough balls are his specialty.
Ingredients:
1 1/2 cups flour
1 1/2 cups sugar
1 1/2 teaspoons baking powder
3/4 teaspoon salt
6 Tablespoons unsalted butter, melted
3/4 cup cocoa powder, sifted
3 eggs
1/2 teaspoon vanilla
Confectioners sugar
In a large mixing bowl, mix flour, sugar, baking powder, and salt.  In a medium mixing bowl, combine melted butter, with cocoa and stir until smooth.  Let cool.  Add eggs and vanilla, stir well.  Add to flour mixture.  Stir, stir, and stir some more.  This takes elbow grease, but it will form into a ball.  Scoop the dough by rounded Tablespoons and roll each ball in confectioners sugar.  Place cookies on a silicone mat on a cookie sheet.  Bake at 350 degrees for 12 minutes.  Remove from the oven and let cool on the pan for 5 minutes before removing to a wire rack.
Yield:  2 dozen cookies