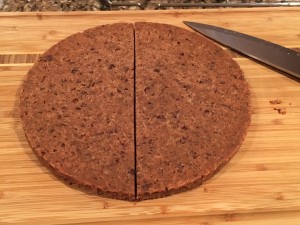 This marries delicious buttery shortbread with chocolate chips.  Super quick and easy to make, and great if you need something in quantity as it makes two pans.
Ingredients:
1 cup unsalted butter, softened
1 teaspoon salt
3/4 cup sugar
1 teaspoon vanilla extract
2 1/3 cups all-purpose flour
1 cup chocolate chips
Lightly grease two 9″ round cake pans.  In a medium bowl, cream together the butter, salt, sugar, and vanilla.  Combine 1 cup of the flour and the chocolate chips in the bowl of a food processor and process until the chocolate is chopped into small, individual bits.  Beat the remaining 1 1/3 cups flour and the flour/chocolate mixture into the butter/sugar mixture until well combined.  Divide the dough in half and press it into the prepared pans, smoothing the surface with your fingers.  Prick the dough all over with a fork.  Bake the pans at 300 degrees for 35-40 minutes or until golden brown on the edges.  Remove it from the oven and loosen the edges with a table knife.  Wait for 5 minutes and then carefully turn out the shortbread onto a clean cutting board.  Using a sharp knife, cut each round into 12 pieces while the shortbread is still warm.  Transfer the pieces to a wire rack to cool.
Yield:  2 dozen shortbread wedges
Recipe from The King Arthur Flour Cookie Companion