These are blondies, meet brownies, meet chocolate chip cookies.  The bar is nice and moist and they make a great treat to throw in lunch boxes, for a picnic, or boxed up for a friend.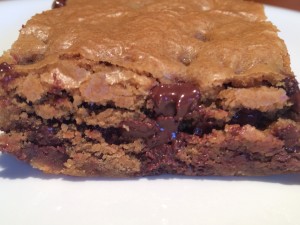 Ingredients:
2 3/4 cup all-purpose flour
2 1/2 teaspoons baking powder
1/2 teaspoon salt
2/3 cup unsalted butter, melted
2 1/4 cups brown sugar
3 eggs
2 cups semi-sweet chocolate chips
Lightly grease a 10″ x 15″ jelly roll pan.  In a large bowl, whisk together the flour, baking powder, and salt.  Set aside.  In another large bowl, combine the melted butter and brown sugar, stirring until smooth.  Allow the mixture to cool slightly.  Add the eggs one at a time, beating well after each addition.  Stir in the flour mixture, then add the chocolate chips.  Spread the batter into the prepared pan.  Bake the bars at 350 degrees for 24-26 minutes, until their top is shiny and golden.  Don't over bake or the bars will be be dry.  Remove the bars from the oven and let cool to room temperature before cutting.
Yield: 36 bars
Recipe from The King Arthur Flour Cookie Companion