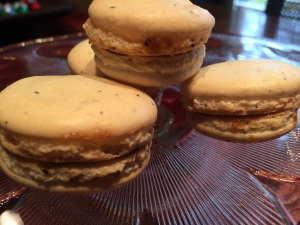 These one bite cookies are packed with flavor and are the perfect dessert after a spicy meal or a sweet compliment to afternoon tea.
Ingredients:
2 lbs. ripe pears, peeled and cored
1 cup water
2 bags organic chai tea
1/4 cup honey
1 vanilla bean with the inside scraped out
1/4 teaspoon cinnamon
1/8 teaspoon nutmeg
1/2 lemon, juiced
1 cup powdered sugar
3/4 cup almond flour
1 chai tea bag
2 egg whites, at room temperature
1/4 cup sugar ground in the food processor
1 teaspoon vanilla extract
To make the Pear Butter, place the pears, water, and chai tea bags in a medium-size saucepan.  Bring to a boil over high heat.  Lower the heat and simmer until the pears are soft and mushy, about 30 minutes.  Remove from heat and allow to cool to room temperature.  When the pears have cooled, remove the tea bags.  Puree the cooled fruit in a food processor until smooth.  Return the pureed pears to the saucepan.  Stir in honey and inside of vanilla bean.  Bring the puree to a low simmer and cook, stirring regularly, until the puree has thickened and is spreadable, about 1-2 hours.  The butter will thicken slightly as it cools, but make sure it is thick like jam.  Remove from heat and stir in the lemon juice, cinnamon, and nutmeg.  Pour the butter into a clean jar and refrigerate for up to 3 weeks.
To make the Macaroons, in a food processor combine the powdered sugar, almond flour, and contents of the chai tea bag.  Sift two times.  In a bowl, whisk the egg whites on high until foamy.  Add the sugar and whip until stiff.  Fold in the vanilla extract and then the powdered sugar and flour mixture.  Fold until smooth and slightly runny.  Spoon mixture into a piping bag fitted with a small round tip.  Pipe onto a cookie sheet lined with parchment paper to form a 1″ cookie.  If a tip forms on the cookie, dip your finger in water to flatten the top.  Tap the pan on the counter a few times to remove air bubbles and let stand at room temperature for 30 minutes.  Bake at 325 degrees for 10 minutes until firm but not brown on top.  Cool.  Take two cookies and fill with 1 teaspoon of the pear butter filling.
Recipe prepared by my friend Kirsten