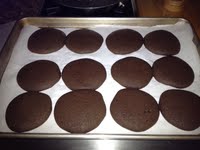 This is one of my family's favorite desserts and it only lasts one day in our house, which is good because they are best eaten the same day they are made!
Ingredients:
3/4 cup granulated sugar
1/2 cup unsalted butter, softened
1 egg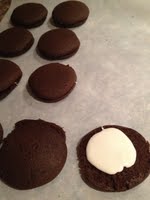 2 cups all-purpose flour
1/2 cup cocoa, sifted
1 1/2 teaspoons baking soda
1/2 teaspoon baking powder
1/2 teaspoon salt
1 cup milk
1 jar (7.5 oz.) marshmallow creme
1 cup powdered sugar, sifted
Place parchment paper or silicone mats on two cookie sheets.  Cream sugar and butter together with an electric mixer until well blended.  Add egg and 1 teaspoon of the vanilla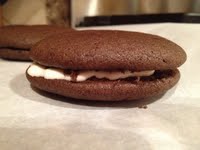 extract.  Mix flour, cocoa, baking soda, baking powder, and salt together in a bowl.  Add to butter mixture alternately with milk until well mixed.  Drop by rounded Tablespoons to make 24 cookies.  Press each cookie with a spoon dipped in water to slightly flatten.  Bake at 350 degrees for 11 minutes or until top of cookie springs back when touched.  Remove cookies to wire rack and let cool.
Beat marshmallow creme, powdered sugar, and vanilla in a bowl with an electric mixer for 3 minutes.  Place a rounded Tablespoon of marshmallow mixture in the center of a cookie.  Top with another cookie and press down.
Yield:  12 Chocolate Whoopie Pies