Ingredients: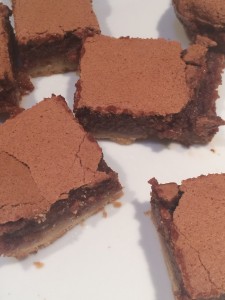 1 cup all-purpose flour
1/3 cup sifted powdered sugar
1/2 cup butter
1 1/2 cups sugar
3 Tablespoons cocoa, sifted
1/8 teaspoon salt
2 Tablespoons butter, melted
2 eggs
1-5 oz. can evaporated milk
1 teaspoon vanilla
Combine flour and powdered sugar, cut in 1/2 cup butter with pastry blender until mixture resembles coarse crumbs.  Press mixture evenly into the bottom of a 9″ square pan lined with parchment paper.  Bake at 350 degrees for 15 minutes or until lightly browned.  Combine sugar, cocoa, and salt.  Add 2 Tablespoons butter and eggs.  Beat for 3 minutes with an electric mixer.  Add evaporated milk and vanilla, mixing well.  Pour mixture over crust and bake at 350 degrees for 45 minutes or until set.  Cut into squares while warm.
Yield:  3 dozen squares