This is a snap to make and it is so smooth and velvety, you will never make box pudding again!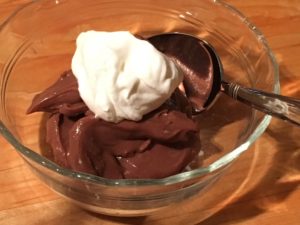 Ingredients:
Pudding:
3/4 cup granulated sugar
3 Tablespoons unsweetened cocoa
2 Tablespoons cornstarch
1/4 teaspoon salt
1 cup buttermilk
1 1/4 cups heavy cream
2 large egg yolks
1 large egg
1-4oz. semisweet chocolate baking bar, finely chopped
1 Tablespoon butter
1 teaspoon vanilla extract
Buttermilk Cream:
3/4 cup heavy cream
1/4 cup powdered sugar
1/4 cup buttermilk
Prepare Pudding by whisking together first 4 ingredients in a large saucepan.  Slowly whisk in 1 cup buttermilk to make a smooth paste.  Whisk together 1 1/4 cups cream, egg yolks, and egg in a 2 cup glass measuring cup.  Slowly add cream mixture to buttermilk mixture, whisking constantly until well blended.  Cook pudding over medium heat, whisking constantly, about 10 minutes or until mixture begins to boil and thicken.  Remove from heat.  Add chopped semisweet chocolate, whisk until smooth.  Add butter and vanilla, and whisk until butter melts and pudding is smooth.  Transfer to a bowl and place plastic wrap directly on warm pudding to prevent a film from forming.  Chill 4-24 hours.
Prepare Buttermilk Cream by beating 3/4 cup cream, 1/4 cup powdered sugar, and 1/4 cup buttermilk at high speed with an electric mixer until soft peaks form.  Divide pudding into bowls and top with a dollop of buttermilk cream.
Serves: 6
Recipe from Southern Living Magazine