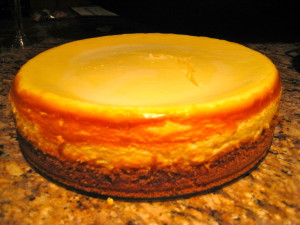 This is the best choice for a wedding, baby shower, or luncheon.  I like it because the cheesecake is light and creamy.  The secret is to have the cream cheese at room temperature and whipped in an electric mixer.  When making the crust, use fresh, whole graham cracker crushed in a food processor.
Ingredients:
1 2/3 cups graham cracker crumbs
1/3 cup butter, melted
5-8oz. packages cream cheese, softened
1 1/2 cups sugar
3 eggs
2 1/2 teaspoons vanilla
Combine graham cracker crumbs and butter.  Press on the bottom and up the sides of a 10′ springform pan.  Bake at 350 degrees for 5 minutes.
Beat cream cheese at high speed of an electric mixer until light and fluffy, 3-5 minutes.  Gradually add sugar.  Add eggs, one at at time, beating well after each addition.  Stir in vanilla.  Pour into crust.  Bake at 350 degrees for 40 minutes.  Turn oven off, partially open door.  Leave cheesecake in oven for 30 minutes.  Remove from oven and cool completely.  Cover and chill at least 8 hours.
Yield:  12-16 slices