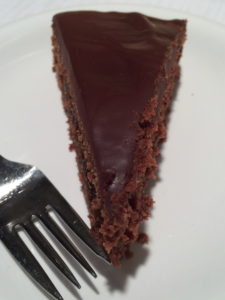 This wonderfully dense, rich, oh so chocolately cake can be made with Bittersweet or Semisweet chocolate depending on your preference.  The best way to slice the cake in half is to used unwaxed, plain, dental floss!
Ingredients:
4 oz. bittersweet chocolate
1/2 cup butter
1/4 teaspoon salt
1 cup sugar
1/2 cup hot strong coffee
1 egg
1/4 cup buttermilk
1 teaspoon vanilla
1 teaspoon baking soda
1 cup all-purpose flour
1/2 cup apricot preserves
2 Tablespoons rum
1/2 cup heavy cream
4 oz. bittersweet chocolate
1/2 teaspoon vanilla
In a small saucepan over low heat, melt chocolate and butter with salt.  Add coffee.  Let cool for 3 minutes.  Pour into a large mixer and add sugar, egg, buttermilk, vanilla, and baking soda.  Mix well.  Add flour and beat at low speed for 5 minutes.  Pour into a greased and floured 9″ cake pan.  Bake at 350 degrees for 30-35 minutes or until wooden pick inserted into the center of the cake comes out clean.  Remove to a wire rack and cool completely.  Slice the cake in half horizontally.  Mix apricot preserves and rum.  Gently spread onto one layer of the cake and add the other half back on top.  In a small saucepan combine the heavy cream, chocolate, and vanilla.  Heat over low heat until smooth.  Gently pour over the entire cake, spreading over the sides.  Refrigerate for 1 hour before serving.
Yield:  12 slices.