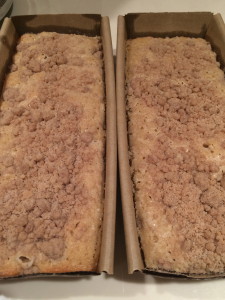 These are perfect for giving as gifts or just having extra treats that you can store in the freezer and pop out when company shows up.  Use the mini paper loaf pans as the cake does not stick to the interior after they have cooled.
Ingredients:
1 1/2 cups butter, softened
3 cups sugar
6 eggs
3 cups all-purpose flour
1 teaspoon apple pie spice
1/2 teaspoon baking powder
1/4 teaspoon salt
1/4 teaspoon ground cloves
1 teaspoon vanilla extract
6-8″ x 4″ paper loaf pans
3/4 cup all-purpose flour
1/4 cup butter, melted
2 Tablespoons sugar
1 teaspoon apple pie spice
1/8 teaspoon salt
Beat butter at medium speed with a heavy-duty electric mixer until creamy.  Gradually add sugar, beating until light and fluffy.  Add eggs, 1 at a time, beating just until blended after each addition.  Stir together flour and next four ingredients.  Gradually add flour mixture to butter mixture alternating with apple cider, beginning and ending with flour mixture.  Stir in vanilla.  Pour batter into loaf pans, filling each half full.  Combine flour, melted butter, apple pie spice, and salt, mixing with a fork until crumbly.  Sprinkle 2 Tablespoons of topping over each loaf pan.  Bake at 325 degrees for 40-50 minutes or until a wooden pick inserted into the center, comes out clean.  Remove to wire rack and let cool.
Yield:  6 mini pound cakes
Recipe from Southern LIving Magazine