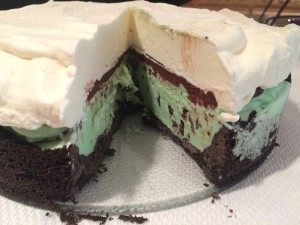 This will put those store bought cakes to shame!  You can make the crust with Oreo cookies if you can't find Chocolate Wafers, just omit the sugar.
Ingredients:
2 cups crushed chocolate wafers
1/2 cup butter, melted
1/4 cup sugar
1/2 gallon mint chocolate chip ice cream
2 Tablespoons water
3 Tablespoons light corn syrup
2 Tablespoons butter, cubed
3 ounces semi-sweet chocolate, chopped
1 ounce unsweetened chocolate, chopped
1cup whipping cream
1/2 cup powdered sugar
3 egg whites
1/4 teaspoon cream of tarter
2 Tablespoons sugar
For the crust, butter the sides of a springform pan.  Crush wafers in a food processor and place in a large bowl.  Add melted butter and sugar, mixing until well combined.  Press into the bottom and up the sides of the pan and bake at 350 degrees for 10 minutes.  Remove from oven and let cool.  Refrigerate for 1 hour.  Place ice cream in a large bowl and turn with a spatula until soft.  Spread over the chocolate crust.  Cover and place in the freezer for 6 hours or overnight.  In a small saucepan combine water, corn syrup, and butter.  Bring to a boil over medium heat.  Add chopped chocolates and remove from heat, stirring until smooth.  Let cool for 10 minutes, stirring occasionally.  Quickly spread over ice cream and freeze for 2 hours.  In a mixing bowl with a hand held electric mixer, beat whipping cream and powdered sugar until soft peaks form.  In a separate bowl, beat egg whites and cream of tartar until foamy.  Gradually add the sugar and beat until soft peaks form.  Gently fold whipped cream into the egg white mixture.  Spread over cake and freeze for 1 hour.