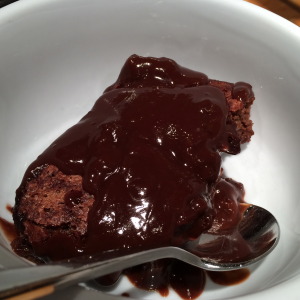 This is super easy!  The directions sound weird, but follow them, let the cake cool for 20 minutes and serve with vanilla ice cream.
Ingredients:
1 cup all-purpose flour
3/4 cup granulated sugar
3 Tablespoons unsweetened cocoa, sifted
1 Tablespoon instant coffee
2 teaspoons baking powder
1/4 teaspoon salt
1/2 cup milk
1 teaspoon vanilla extract
1 cup packed, light brown sugar
3 Tablespoons unsweetened cocoa, sifted
1 teaspoon instant coffee
1 1/2 cups boiling water
Whisk flour, sugar, cocoa, coffee, baking powder, and salt in a bowl.  Add milk and vanilla and stir until well blended.  Spread into an 8″ square baking dish that has been lightly buttered.  Combine brown sugar, cocoa, and coffee.   Using a spoon, sprinkle evenly over the cake batter.  Carefully pour the boiling water evenly over the cake mixture, do not stir.  Bake at 350 degrees for 40 minutes.
Serves: 8