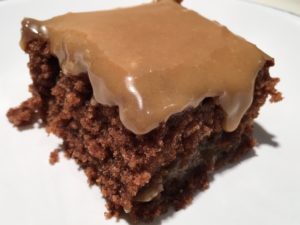 The Cola makes this cake super moist and the peanut butter frosting is so delicious!  Try it with Coke, Dr. Pepper, even Root Beer!
Ingredients:
1 cup cola
1/2 cup buttermilk
1 cup butter, softened
1 3/4 cups sugar
2 large eggs
2 teaspoons vanilla extract
2 cups all-purpose flour
1/4 cup unsweetened cocoa
1 teaspoon baking soda
1/4 cup butter
3/4 cup milk
1 cup creamy peanut butter
1-16 oz. package powdered sugar
1 teaspoon vanilla extract
Combine cola and buttermilk in a 2 cup measuring cup.  Beat butter at low speed with an electric mixer until creamy.  Gradually add sugar, beating until blended.  Add eggs and vanilla; beat a lot speed just until blended.  Combine flour and next 2 ingredients in a medium bowl.  Add to butter mixture alternately with cola mixture, beginning and ending with flour mixture.  Beat at low speed just until blended after each addition.  Pour batter into a lightly greased 13″ x 9″ pan.  Bake at 350 degrees for 30-35 minutes or until a wooden pick inserted in the center comes out clean.  Cool in pan on a wire rack 10 minutes.  Meanwhile prepare Peanut Butter Frosting.  Melt butter in a large saucepan over medium heat.  Whisk in milk, and bring to a boil, whisking constantly.  Reduce heat to low, and whisk in peanut butter until smooth.  Gradually whisk in sugar until smooth; remove from heat, and whisk in vanilla.  Pour over warm cake.
Yield:  12 squares
Recipe from Southern Living Magazine