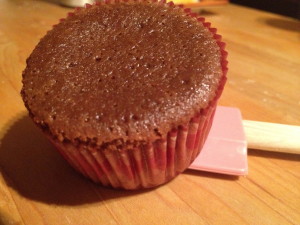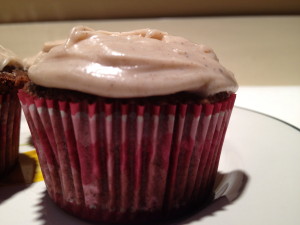 Top these cupcakes with Browned Butter-Cinnamon-Cream Cheese Frosting and you have one decadent dessert!  If you have not made browned butter, this is the recipe to try it on.
Ingredients:
1 1/2 cups semi-sweet chocolate morsels
1/2 cup butter, softened
1-16oz. package light brown sugar
3 eggs
2 cups all-pupose flour
1 teaspoon baking soda
1/2 teaspoon salt
1-8oz. container sour cream
1 cup hot water
2 teaspoons vanilla extract
1/4 cup butter
1-8oz. package cream cheese
1-16oz. package powdered sugar
1/2 teaspoon cinnamon
1 teaspoon vanilla extract
Cupcakes:
Preheat oven to 350 degrees.  Microwave morsels in a microwave-safe bowl at HIGH for 1-1 1/2 minutes or until melted and smooth, stirring at 30 second intervals.  Beat butter and sugar at medium speed with an electric mixer until well blended (about 5 minutes.)  Add eggs one at a time, beating after each addition.  Add melted chocolate and beat until blended.  Sift together flour, baking soda, and salt.  Gradually add flour mixture alternately with sour cream, beginning and ending with flour mixture.  Beat at low speed just until blended after each addition.  Gradually add hot water in a slow, steady stream, beating at low speed just until blended.  Stir in vanilla.  Place paper baking cups in muffin pans, and fill 3/4″ full.  Bake at 350 degrees for 18-20 minutes or until a wooden pick inserted into center of cupcake comes out clean.  Remove from pans to wire racks and let cool completely.  Frost cupcakes.
Frosting:
Cook butter in a small, heavy saucepan over medium heat, stirring constantly, 6-8 minutes or until butter begins to turn golden brown.  Immediately remove from heat.  Pour butter into a bowl.  Cover and chill 1 hour or until butter is cool and begins to solidify.  Beat butter and cream cheese at medium speed with an electric mixer until creamy; gradually add powdered sugar beating until light and fluffy.  Stir in ground cinnamon and vanilla.
Yield:  3 dozen
Recipe from Southern Living Magazine