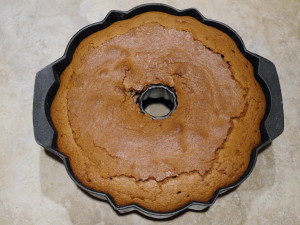 This cake is fantastic!  Just make sure your butter is at room temperature and that you beat the batter for the recommended about of time in your mixer.
Ingredients:
1 cup butter, softened
1 cup shortening
3 cups sugar
5 eggs
3 cups all-purpose flour
1/4 cup cocoa, sifted
1/2 teaspoon baking powder
1/2 teaspoon salt
1 cup buttermilk
1 Tablespoon vanilla
Beat butter and shortening in mixer for 3 minutes.  Add sugar, beating for 7 minutes.  Add eggs one at a time, beating well.  Combine flour, cocoa, baking powder, and salt.  Add alternately with milk, beginning and ending with flour.  Stir in vanilla.  Pour batter into a greased and floured bundt pan.  Bake at 325 degrees for 1 hour and 30 minutes or until knife inserted into cake comes out clean.  Cool in pan for 15 minutes.  Remove from pan and cool on wire rack.