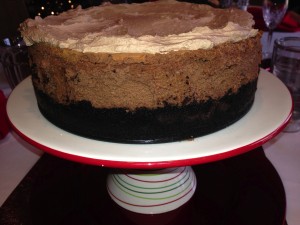 This is a must in our home every Christmas.  It is one of the lightest cheesecakes, but don't be fooled, it is certainly rich!  Make sure your cream cheese has come to room temperature to ensure the creamiest cake.
Ingredients:
One package chocolate wafers
1/3 cup unsalted butter, melted
1 1/3 cups semi-sweet chocolate chips
3-8oz. packages cream cheese, softened
1 1/2 cups sugar
3 eggs
1 Tablespoon cocoa, sifted
1 1/2 teaspoons vanilla extract
1-8oz. carton sour cream
1 1/2 cups whipping cream
3 Tablespoons cocoa, sifted
2 Tablespoons powdered sugar, sifted
1 teaspoon vanilla extract
For the crust:
In a food processor, blend the wafers until they are fine crumbs.  Pour into a small bowl and add the melted butter and stir with a fork until crumbs are moistened.  Press the mixture into the bottom and up the sides of a 9″ springform pan.  Bake at 350 degrees for 7 minutes.
For the cheesecake:
Place the chocolate chips in the top of a double boiler, bring water to a boil, then reduce heat to low and stir until chocolate is melted.  Remove from heat and let cool.  Beat cream cheese in an electric mixer until light and fluffy, about 5 minutes.  Add sugar and mix well.  Add eggs, one at a time.  Stir in chocolate, cocoa, vanilla, and sour cream.  Pour over the chocolate wafer crust.  Bake at 350 degrees for 40 minutes.  Turn oven off, and partially open door.  Leave cheesecake in oven for 30 minutes.  Remove from oven and cool completely.  Cover and chill at least 8 hours.
For the topping:
Combine whipping cream, cocoa, powdered sugar, and vanilla, beating with an electric mixer until stiff peaks form.  Spread on top of chilled cake.