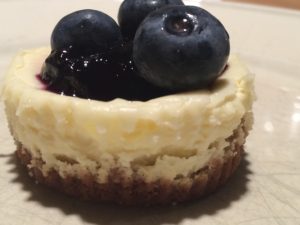 These cheesecakes have a ton of flavor with the cookie crust and the full, fresh blueberries on top.  Make the cakes ahead of time and add the preserves and berries right before you serve.
Ingredients:
12 paper baking cups
14 Lotus Biscoff cookies
2 Tablespoons butter
Pinch of salt
8 oz. package cream cheese, softened to room temperature
1/3 cup sugar
2 Tablespoons fresh lime juice
1/2 teaspoon vanilla extract
2 large eggs
1/4 cup blueberry preserves
1/2 cup fresh blueberries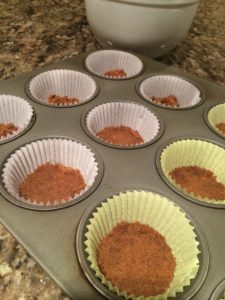 Place paper baking cups in a 12 cup standard size muffin pan.  Pulse cookies in a food processor 8 to 10 times or until finely crushed.  Stir together cookie crumbs, butter, and a pinch of salt.  Firmly press about 1 1/2 Tablespoons crumb mixture into bottom of each baking cup.  Bake at 325 degrees for 6 minutes.  Cool on a wire rack for 10 minutes.  Meanwhile, beat cream cheese and next 3 ingredients at medium speed with an electric mixer until blended.  Add eggs, 1 at a time, beating just until hello disappears after each addition  Divide mixture among prepared baking cups.  Bake at 325 degrees for 15-20 minutes or until just set.  Cool on wire rack 30 minutes.  Cover and chill 4 to 24 hours.  Gently remove cheesecakes from pan.  Top each with 1 teaspoon preserves and a few blueberries.
Yield:  12 cheesecakes
Recipe from Southern Living Magazine