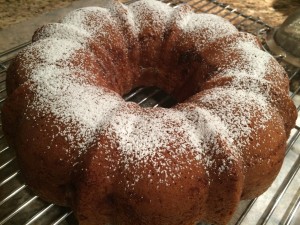 The apple filling makes this cake not too dense and very moist.
Ingredients:
1 1/2 cups diced, peeled Granny Smith apples
1/2 cup apple cider
1 Tablespoon dark brown sugar
1-3″ cinnamon stick
2 Tablespoons dark brown sugar
1 Tablespoon all-purpose flour
1/2 teaspoon cinnamon
3/4 cup granulated sugar
1/2 cup butter, softened
2 eggs
1 egg yolk
1 vanilla bean
2 cups all-purpose flour
2 teaspoons baking powder
1 teaspoon baking soda
1/4 teaspoon salt
1/2 cup 2% milk
3/4 cup 2% reduced fat plain Greek yogurt
1 teaspoon powdered sugar
To prepare filling, combine diced apples, apple cider, brown sugar, and cinnamon stick in a saucepan over medium heat, bring to a boil.  Reduce heat to medium low and simmer 20 minutes or until liquid almost evaporates and apple is tender, stirring occasionally.  Cool to room temperature.  Remove cinnamon stick.  To prepare streusel, combine 2 Tablespoons dark brown sugar, 1 Tablespoon flour, and 1/2 teaspoon ground cinnamon.   Set aside.  To prepare cake, grease and flour a 12-cup bundt pan.  Place sugar and butter in a large bowl; beat with a mixer at medium speed until light and fluffy, about 3 minutes.  Add eggs and egg yolk, one at a time, beating well after each addition.  Split vanilla bean with a sharp knife, scrape seeds from the bean and add to sugar mixture.  Toss bean.  Combine flour, baking powder, baking soda, and salt in a bowl, stirring well with a whisk.  Combine milk and yogurt in a small bowl, stirring until smooth.  Add flour mixture and milk mixture alternately to sugar mixture, beginning and ending with flour mixture; beating just until combined.  Spoon one-third of batter into prepared pan; sprinkle batter with half apple mixture and half streusel mixture.  Repeat layers, ending with remaining third of batter; smooth with a spatula.  Bake at 350 degrees for 30 minutes or until wooden pick inserted in center comes out with moist crumbs clinging.  Cool on wire rack for 15 minutes, remove from pan.  Cool completely on wire rack and sprinkle with powdered sugar before serving.
Recipe from Cooking Light Magazine