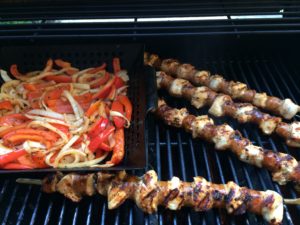 Looking for a quick recipe that everyone in the family will love?  This is a snap to make and the flavors really pop!  Leave a little space between each piece of meat on the skewer so they cook quickly.
Ingredients:
2 boneless, skinless, chicken breasts cut into pieces
4 chorizo or hot Italian sausage links cut into pieces
2 red bell peppers cut into strips
1 medium onion cut into strips
1/4 cup orange juice
2 teaspoons dried oregano
1 Tablespoon paprika
1 1/2 Tablespoons olive oil
2 cloves garlic minced
Put the chicken and sausage on skewers and place the peppers and onions in a grill basket.  Combine orange juice, oregano, paprika, olive oil, and garlic in measuring cup.  Pour the sauce over the skewers and vegetables.  Place the skewers and grill basket over medium heat and grill the skewers for 4 minutes on each side, stirring the vegetables in the grill basket when you flip the skewers.  Cook the vegetables and extra 2 minutes and serve together with the meat.
Serves: 4